Title: Six of Crows
Author: Leigh Bardugo
Genre Themes: Fantasy, Bloody, YA
Date Published: Sep. 29, 2015
Cover Rating: 4/5
WARNING! This is not a book for younger kids! It's violent and there's some swearing.
Buy: Six of Crows
Synopsis: Ketterdam: a bustling hub of international trade where anything can be had for the right price–and no one knows that better than criminal prodigy Kaz Brekker. Kaz is offered a chance at a deadly heist that could make him rich beyond his wildest dreams. But he can't pull it off alone…
A convict with a thirst for revenge.
A sharpshooter who can't walk away from a wager.
A runaway with a privileged past.
A spy known as the Wraith.
A Heartrender using her magic to survive the slums.
A thief with a gift for unlikely escapes.
Six dangerous outcasts. One impossible heist. Kaz's crew is the only thing that might stand between the world and destruction―if they don't kill each other first.
---
It was really hard to rate this one!
I haven't read Leigh Bardugo's other work – the Grisha Trilogy – so I was new to the Grisha world. It took a while to get used to the names – thankfully, there was a beautiful map in the front of the book which was a LIFESAVER!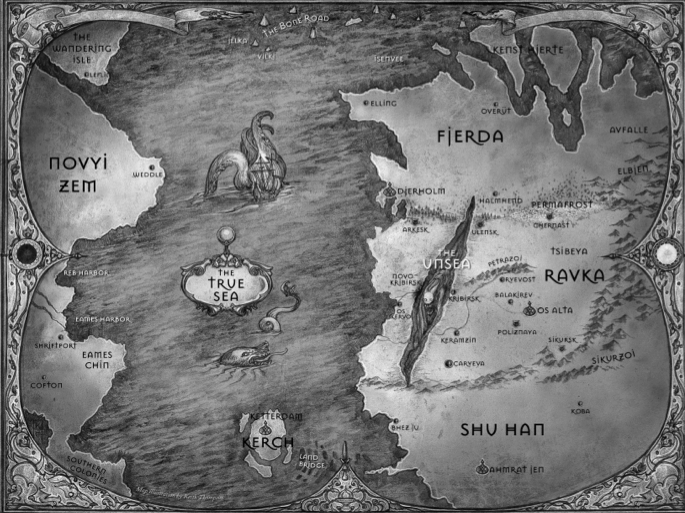 It really wasn't until part two (page 100) that I really got into it.
The writing style was written in just the right way. Anything else would be super confusing, but in Bardugo's style, it explains itself and keeps you engaged.
I liked the characters. Inej and Kaz and Jesper and Wylan and Nina and Matthias – I just loved them all! The different backstories were interesting, and written in a way where you want to know more about these characters.
It was very bloody. There was one part that nearly made me gag, and I totally didn't see that coming. I haven't heard anything about that from the Grisha Trilogy, so I really didn't expect it.
I wasn't a fan of the swearing.
Personally, I don't like swearing in Fantasy books. I feel like it takes away from the book. I mean, this is a fantasy world, right? So why would they use modern words?
I mean, I consider damn to be pretty universal, so I expected that. But it takes away from the world when they swear – especially when it's unnecessary. But hey – Maybe that's just me.
I have already requested the next book (which comes out September 27th) and I'm excited to read the sequel, but I didn't love this book like I know a lot of you out there do.