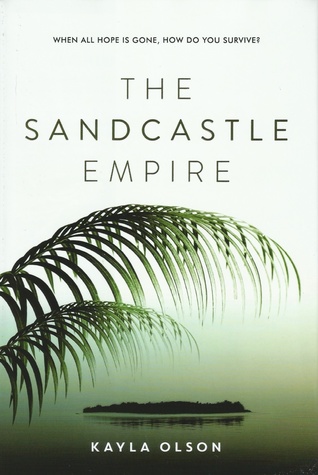 Title: The Sandcastle Empire
Author: Kayla Olson
Publisher: HarperTeen
Genre: Dystopian
Format: Hardcover (Owlcrate exclusive cover) received via Owlcrate
---
Synopsis
Before the war, Eden's life was easy. Then the revolution happened, and everything changed.
Now a powerful group called the Wolfpack controls the earth and its resources. But Eden refuses to die by their hands. She knows the coordinates to the only neutral ground left in the world, a place called Sanctuary Island.
Eden finally reaches the island and meets others resistant to the Wolves. But the solace is short-lived when one of Eden's new friends goes missing. They quickly discover the Sanctuary is filled with lethal traps and an enemy they never expected.
---
★ ★ ★ .75
To be honest, from the synopsis this didn't seem any different from other dystopian novels. It did have a little bit of a different tone, so if that was what was holding you back, I do suggest you read it.
I liked the characters, though a lot of the chapters were solely Eden (our protagonist) thinking. Personally, I usually need some dialogue to find a book interesting. So those did throw me off.
As far as other characters go, I did like the cast of side characters. Lonan especially!
The writing style was easy enough to read, but the descriptions got so confusing that I almost never had a clear image of what was going on. This book is going to be a movie, and I think it'll be a lot better to see it than picture it in my head.
The plot was fast-paced, and that never disappointed me.
This book is going to be turned into a movie by Leonardo DiCaprio. There isn't a lot of information on it right now, but learn more about that here.
Overall Thoughts
A pretty good debut novel. I do planning on continuing with the series.
---
marrillcollins@gmail.com