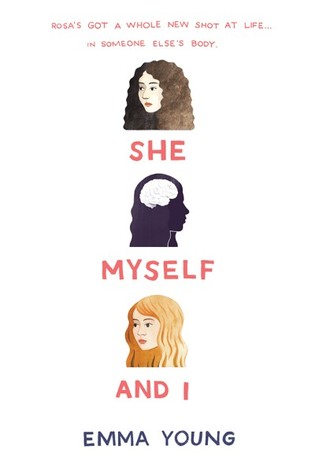 Title: She, Myself and I
Author: Emma Young
Publisher: Amulet Books
Genre: Contemporary, Disability, Self-Discovery
Format: Ebook received via Netgalley
~ARC review~
Available September 5th, 2017
---
Synopsis
Ever since Rosa's nerve disease rendered her quadriplegic, she's depended on her handsome, confident older brother to be her rock and her mirror. But when a doctor from Boston chooses her to be a candidate for an experimental brain transplant, she and her family move from London in search of a miracle.
Sylvia—a girl from a small town in Massachusetts—is brain dead, and her parents have agreed to donate her body to give Rosa a new life. But when Rosa wakes from surgery, she can't help but wonder, with increasing obsession, who Sylvia was and what her life was like. Her fascination with her new body and her desire to understand Sylvia prompt a road trip based on self-discovery… and a surprising new romance. But will Rosa be able to solve the dilemma of her identity?
---
★ ★ ★
The idea of this book was pretty intriguing, but can easily fall into the tropey side of things. Thankfully! It didn't.
I didn't get lost in the medical\science aspect of it, long words and Latin words and whatnot, but it still seemed professional and informative.
I really liked our main character, Rosa, and I enjoyed her progression through the book. She had pretty good character chemistry with Joe, and I liked that.
I know a lot of people had a problem with this book becuase they want to see more from the disability aspect of it, but you know right from the synopsis that the story is starting as she has her surgery. As in, right before she gets a new body and gets better (which takes over six months). I don't think it's fair to expect more from before that.
Besides, with the way it all goes, it would have just held the story back.
Overall Thoughts
A really good recovery book, and perfect for those who like books about recovery\finding yourself.
---
marrillcollins@gmail.com